Why The Trades Are Important, Respectable and Cool
---
Today, young adults are graduating from college and often finding themselves over-educated and under-employed. Sadly, the tech, engineering and accounting jobs they counted on after graduation, are harder to find than ever, as more and more jobs are going to a skilled workforce oversees. Yet, parts of society persists in perpetuating the myth that to succeed in life, college is the only way to get there. Why? Because we don't know any better. In this session, you will learn from veteran career contractor, Stud-Finder Winner, and host of her own TV show on the D.I.Y network, Kayleen McCabe — about the best kept secret to success — a career in the trades.

Keynote Bio
---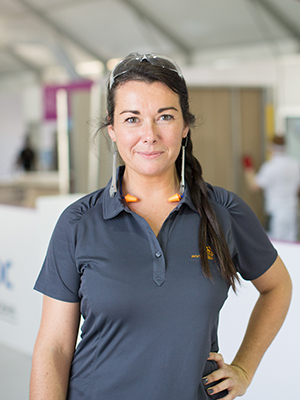 Kayleen McCabe
The McCabe Foundation
Kayleen McCabe's passion for the trades was put to the test on Rescue Renovation, the DIY Network series she hosted for five seasons. Today, this licensed contractor, sought-after speaker, and the 2009 winner of DIY's Stud Finder competition funnels her know-how and innovative spirit toward a more pressing need than outdated wall paneling: Vocational advocacy and awareness.
Her non-profit, The McCabe Foundation, tightens America's skills gap by encouraging young men and women alike to consider careers in our nation's most undervalued, unfilled, sector: The trades. A familiar face at industry events and in schools across the nation, Kayleen partners exclusively with respected partners including Skills USA.
When she's not knocking down stereotypes or walls, Kayleen caters to a wide array of clients on custom projects ranging from pergolas and decks to furniture and custom storage.
---